Check Out the Review of our Krinkov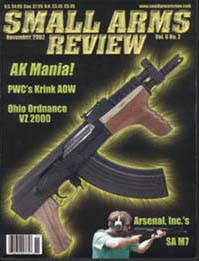 In Small Arms Review


Introducing two new editions to our lineup.
PWC Krinkov (AOW)
7.62 x 39
Price $999.00

PWC SAW (AOW)
12 ga
Price $550.00
Welcome to Precision Weapons Corp. We are a Class II Manufacturer.

We manufacturer Suppressors, AOW's and machine guns for qualified people, police departments and government agencies.

We sell quality hand crafted products at reasonable prices. Each piece is hand inspected and test fired before being sold. At present we sell Integrally suppressed .22 rifles and pistols, 9mm subgun cans and AOW shotguns. We will be selling a H&K USC AOW as soon as we get BATF approval. We have obtained approval for the Krinkov.

Precision Weapons Corp. is a Heckler & Koch authorized distributor.